Breeding Stock
Our current herd has been under development for the last twenty years.
Originally focused on purebred, registered Simmental cows with a strong emphasis on Fleckvieh traits. With the addition of a number of purebred registered Red Angus cows from several herds, we began to strategically select for those qualities that we felt are most successful in our management system. We track cows and their production, and breed according to this as well as physical traits. In the early 2000's, we began moving away from purebred cattle and focusing on producing high quality, F1 Simmental and Red Angus crossed cows. There were two main reasons for this: to take advantage the best that both breeds have to offer and to have F1 cattle available to breed to terminal sires for higher quality market cattle.
Today, we feel we have cattle that work extremely well for us and will perform well in any beef herd. Frame size is medium, and good feet and legs are a must for our brood cows that must be able to walk in all conditions. Functional udders that allow calves to quickly and efficiently nurse are always selected for and calm temperament is also necessary.
We select bulls, both from our herd or carefully selected from reputable breeders, to ensure strong genetics and a continued focus on our main goals. These well rounded bulls allow us to produce excellent calves that can be used as replacement cattle for our own herd, replacement cattle in other herds or as market cattle.
Beef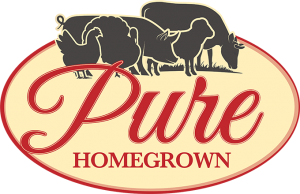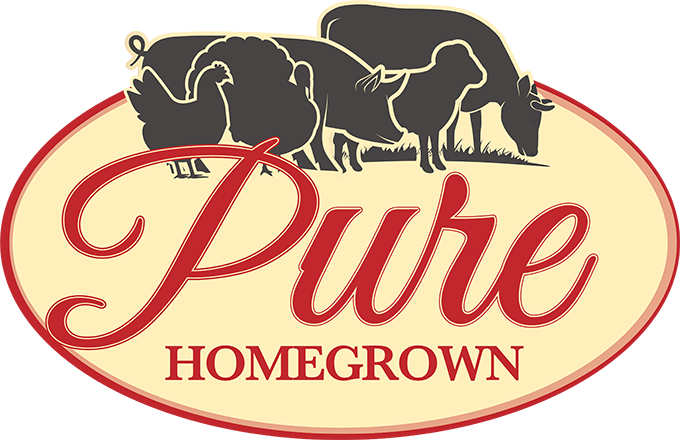 What's the beef?!  We raise our Pure Homegrown beef on pasture with high quality forages, and then beef animals are finished on grain, in order to achieve that much needed finish for that beautiful marbling and taste.
Our cattle are not fed any growth promotants, antibiotics or hormones, which we feel plays a big part in providing that amazing eating experience that everyone is looking for! The other big part of producing high quality, tender and great tasting beef, is that all our beef is aged at least 21 days before being cut and wrapped.
Whether you are looking for BBQ steaks, or oven roasts, some juicy burgers, or a side or quarter cut and wrapped to your specifications, we offer many amazing product options that are sure to meet your needs.